You'll enjoy making this easy vegan Thai red curry right at home! It's packed with flavor and quick enough for a weeknight meal. Comfort in a bowl!
I absolutely love Thai Curry! I use to eat it weekly from my favorite local Thai restaurant, but that had to stop after going vegan because of the addition of fish sauce in their curry. Yeah, sadly Thai restaurants use fish sauce in a lot of their dishes, so even if you order tofu curry it still isn't vegan (I may have cried when I found this out).
So anyway, after this shocking realization I started making curry at home and I'm so glad I did. It's fun experimenting with different types of cuisine and so much healthier than takeout. I've made Thai red curry so many times and finally came up with a super easy and so tasty recipe that's fast enough to add to your weeknight rotation.
Easy Thai Red Curry Ingredients
For Easy Thai Red Curry, you will need...
Rice: I typically use jasmine rice for Thai dishes, as it adds a hint of sweetness that pairs so well the spice. Sometimes I'll use brown or wild rice because of the health factor. Use what you like.
Tofu: Crispy pan seared tofu is great in this dish. Although you could skip it and you would still have a wonderful vegetable curry.
Vegetable broth: This is part of the base of the curry.
Coconut Milk: Make sure to get the canned, not the carton. Full fat or light will do.
Thai Red Curry Paste: The brand that is linked is vegan, easy to find, and tastes great. Keep in mind when buying, that different brands will vary in terms of flavor profile and spice level. Also, check labels as many brands contain fish sauce.
Garlic and onion: These aromatics add flavor to the base of the curry.
Vegetables: I used onion, mushrooms, red bell pepper, and eggplant for this recipe. You can mix up the veggies, just be sure to choose ones that will cook quickly in the curry broth.
Tomato paste: This adds a bit of umami to the curry broth.
Coconut Aminos: This takes the place of the fish sauce. You can use soy sauce, but I prefer the coconut aminos because it adds a bit of sweet and salty. The brand linked is one of my favorites!
Sugar: Just a little bit is all you need.
Garnishes: Limes, cilantro, and Sriracha make great garnishes!
Vegan Thai Red Curry Tips
Use full fat canned coconut milk for a rich and decadent curry. Opt for light to save on fat and calories, just keep in mind it will not be as creamy.
Brands of curry paste vary in terms of spice level. So, if you are sensitive to spice, you may want to start small, taste, and then work your way up.
Try stirring in a splash of rice vinegar at the end for depth of flavor.
If you want your curry extra spicy, try adding in a fresh hot pepper with the garlic and ginger. Or add a bit of red chili powder.
Don't skip the fresh limes and cilantro as garnishes- they really add a lot of flavor to the curry. I also like a squirt of Sriracha.
Lastly, this recipe is totally customizable. Try mixing up the protein and vegetables to suite your taste.
If you decide to give this recipe a try, please let me know how it turns out!
Happy Eating!
Crystal
📖 Recipe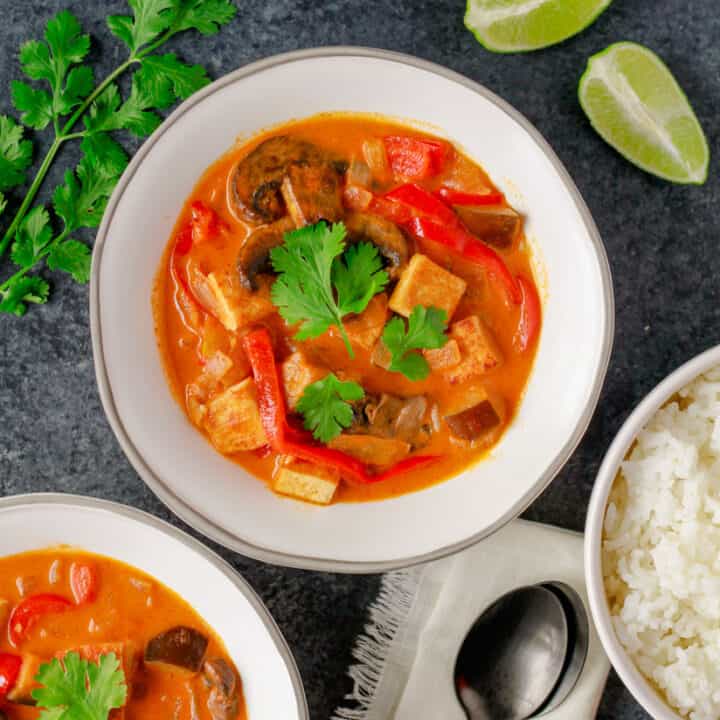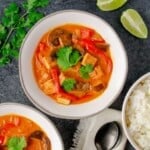 Print Recipe
Easy Vegan Thai Red Curry
You will enjoy making this Vegan Thai Red Curry right at home! Its packed with flavor and quick enough for a weeknight meal. Comfort in a bowl!
Ingredients
1

cup

jasmine rice

14

oz

crispy pan seared tofu

see recipe (optional)

2

tablespoon

avocado oil

13.5

oz

coconut milk

see notes

1

cup

vegetable broth

low sodium

3

tablespoon

red curry paste

vegan red curry paste

1

tablespoon

tomato paste

2

tablespoon

coconut aminos

Coconut Aminos

1

yellow onion

diced

1

red bell pepper

sliced into thin strips

1

Japanese eggplant

or half of a regular eggplant, diced

2

cups mushrooms

sliced

½

cup

bamboo shoots

canned

1

tablespoon

ginger

minced

4

cloves

garlic

minced

1

tablespoon

sugar

vegan sugar

½

teaspoon

salt

more to taste
Instructions
Prepare jasmine rice according to package.

Heat oil in a large heavy bottom pan over medium heat.

Add diced onion and saute about 7-8 minutes or until translucent stirring frequently. Add a splash of water as needed to deglaze the pan.

Add minced garlic and ginger. Stir for 1 minute.

Add red chili paste and tomato paste. Stir for an additional minute.

Add in coconut milk, vegetable broth, coconut aminos, sugar, and salt. Stir until well combined.

Add bell pepper, mushrooms, and eggplant to broth mixture. Partially cover with a lid and cook for 10 minutes stirring a few times.

Remove lid and add tofu and continue to cook for an additional 5 minutes or until vegetables are tender.

Remove from heat and stir in rice vinegar.

Serve over jasmine rice and garnish with fresh cilantro and lime wedges.
Notes
You can skip tofu and add extra veggies for a wonderful vegetable curry. 
Use full fat canned milk for rich and decadent curry. Opt for light canned to save on fat and calories. 
Try adding a splash of rice vinegar add the end of cooking as it brightens up the dish. 
For spicier curry (I can take some heat) try adding this Korean Hot Pepper Powder. A little bit goes a long way and it adds flavor. Or you could spice it up by adding a chopped fresh pepper along with the garlic and ginger. 
Store leftovers (rice separate from curry) in the refrigerator for up to 4 days. 
Nutrition
Calories:
501.25
kcal
|
Carbohydrates:
56.27
g
|
Protein:
7.27
g
|
Fat:
28.88
g
|
Saturated Fat:
19.41
g
|
Sodium:
747.25
mg
|
Potassium:
563.68
mg
|
Fiber:
4.3
g
|
Sugar:
9.67
g
|
Vitamin A:
2902.48
IU
|
Vitamin C:
45.19
mg
|
Calcium:
62.76
mg
|
Iron:
4.37
mg