These are the absolute best vegan red beans and rice! They are so smokey, creamy, and flavorful. There is no need need for vegan sausage- these beans can stand alone! Add a dash of hot sauce for a delicious meal that is so simple to make.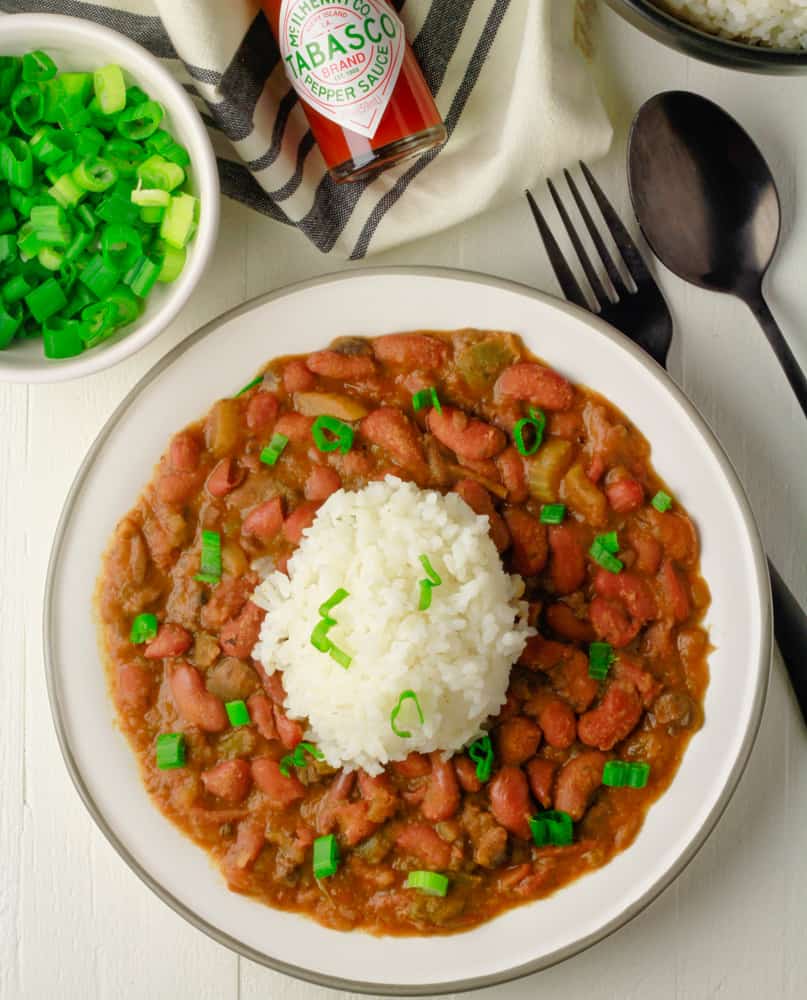 Being from Louisiana, I know my red beans and rice! It's a comfort food around here and something that is so much better homemade. Yes, you can find red beans and rice in many Louisiana restaurants, but it just isn't the same as a big pot of homemade beans.
Now from what I've been told, this traditional Creole dish was made on Mondays which served as laundry day. I imagine a Creole lady happily folding her delicates as her beans simmer away on the stove.
While I admire such orderliness, red beans and rice isn't exactly written into my weekly schedule and I just realized that I don't even have a laundry day- call me spontaneous! But, I do make vegan red beans and rice quite often. It's something that pleases the whole family, and let me tell you that's no easy feat with 3 picky kids and an omnivorous husband.
Traditional Red beans and Rice is made with ham or sausage and I grew up eating it that way. So, I was disappointed with my first attempt at vegan red beans and rice, as there was just something lacking. It was missing that smokey, umami flavor that I was used to.
But I'm no quitter, so I kept attempting until I was happy with the results. And let me tell you, I'm definitely happy with this recipe! I do not miss the meat and it is full of flavor. You see, it's all about the spices when it comes to vegan cuisine. I think I realized that by experimenting with Indian cuisine. They have been eating vegetarian for forever and they know it comes down to those spices!
So let's talk spices...
Vegan Red Beans and Rice Ingredients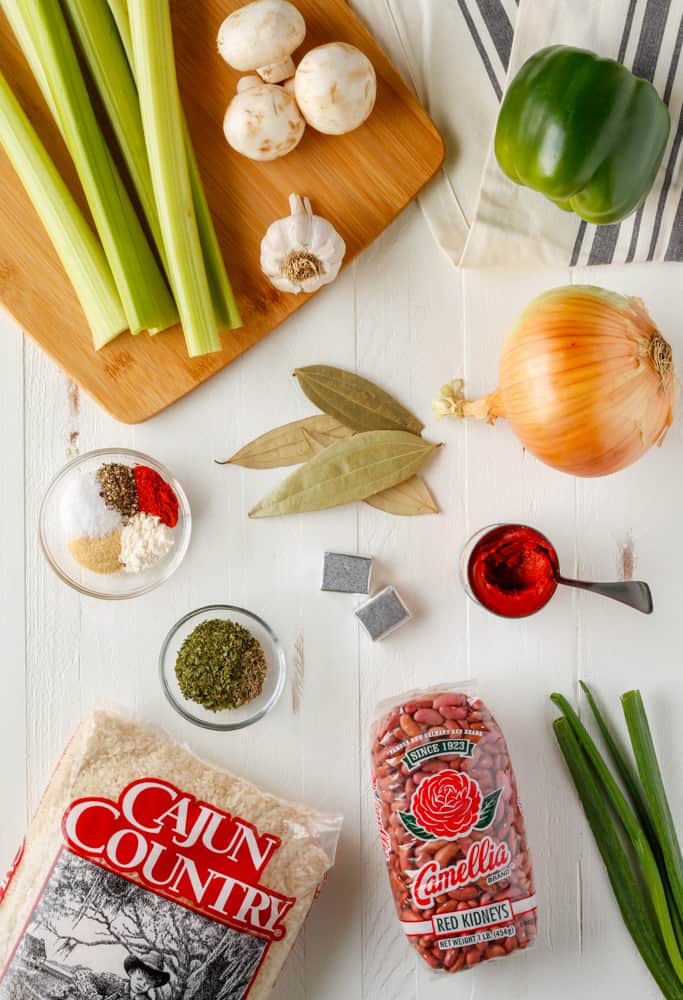 So the spices are really what makes these vegan red beans and rice so delicious. The spices you will need are garlic powder, onion powder, smoked paprika, thyme, parsley, bay leaves, salt, black pepper, and cayenne pepper.
I use huge bay leaves that I purchased from from local Indian market. If you can get your hands on some, they are well worth the trip. They are so flavorful, but you can also use any bay leaves you have. If they are small, throw an extra one in there.
You will also need 1lb of red beans (soaked overnight), rice, 1 large yellow onion, 1 large green bell pepper, 6 stalks of celery, 2 cups diced portobella mushrooms, 4 garlic cloves, tomato paste, 2 vegetable bouillon cubes, and olive oil.
Mushrooms are not a traditional ingredient in Red beans and rice, but they add some umami to the dish and we are always looking to up that umami in vegan dishes. I use portobella, but any type will do. Also, I think the tomato paste does a good job of upping the umami as well.
You can make these beans as spicy as you like by adding more cayenne or you can omit if you prefer mild. I use low sodium bouillon cubes, but if you have regular go ahead and use that and just reduce the amount of salt to compensate.
Preparing your beans
Vegan Red Beans and rice is such an easy dish to prepare. Start by prepping your vegetables and then prepare the rice according to the package. While the rice is cooking you can start your beans.
Begin the beans by sauteing the onions, bell peppers, mushrooms, and celery in the olive oil for about 10 minutes. Then you will add the garlic and saute an additional minute or so.
Next add the beans and seasoning, then saute them together for about 10 minutes, stirring frequently. This helps break down and flavor the beans. After that, add the water and bouillon cubes, cover and simmer for about an hour.
Finally, remove the lid and simmer for an additional 30 minutes to an hour, stirring frequently, or until most of the water is absorbed and the beans are tender.
To Serve
These beans are delicious served over rice with a dash of hot sauce! Tabasco is a Louisiana Brand and goes great with red beans and rice. I like to add pickled jalapenoes and VEGAN SOUR CREAM on top- definitely give it a try! It's SO DELICIOUS!
I hope you enjoyed this recipe for vegan red beans and rice! Let me know what you think!
Happy Eating!
📖 Recipe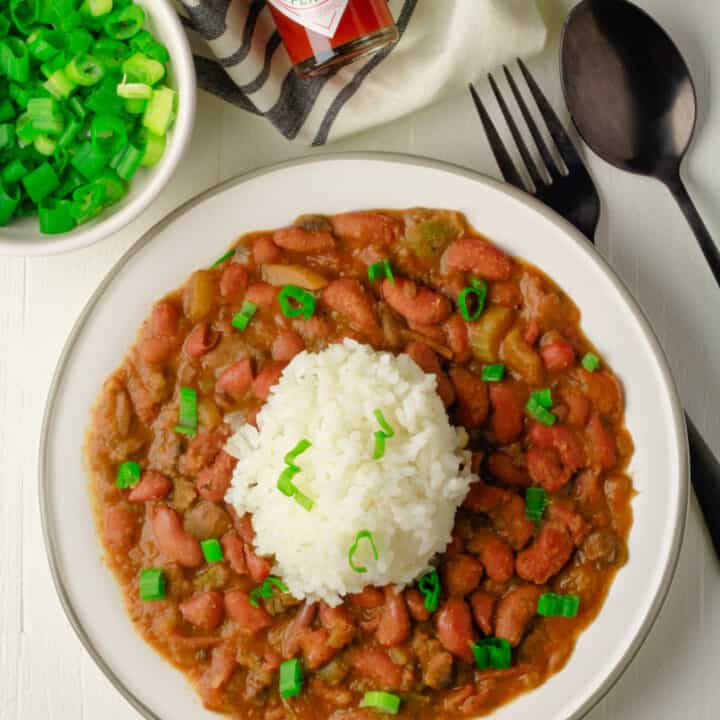 Print Recipe
Best Vegan Red Beans and Rice
These are the absolute best vegan red beans and rice- so smokey, creamy and flavorful! They are simmered in vegetables and spices, and served over rice. Add a dash of hot sauce for a delicious meal that is so simple to make!
Ingredients
rice

1

lb

red beans

dried

1

yellow onion

large, diced

1

green bell pepper

large, diced

6

stalks

celery

diced

2

cups

portobella mushrooms

diced

4

garlic cloves

minced

2

vegetable bouillon cubes

low sodium

2

tablespoon

tomato paste

8

cups

water

4

tablespoon

olive oil

2

teaspoon

salt

4

bay leaves

½

tablespoon

garlic powder

½

tablespoon

onion powder

½

tablespoon

smoked paprika

1

teaspoon

dried thyme

1

tablespoon

dried parsley

½

teaspoon

cayenne

optional

½

teaspoon

black pepper
Instructions
Place beans in a large bowl and cover with fresh water, making sure the water is at least 2 inches above the beans. Soak overnight.

Drain water and rinse beans. Place in the refrigerator until ready to use.

Prepare rice according to package.

Dice the onion, bell pepper, celery, and mushroom. Mince the garlic cloves.

Heat olive oil in a large pot on medium heat for 2-3 minutes.

Add diced celery, onion, mushrooms, and bell pepper.

Cook over medium heat until onions are clear and most water is evaporated. About 10 minutes.

Add Garlic. Stir for 1 min.

Add beans and seasoning. Cook beans without water for an additional 10 minutes with seasoning. This helps to break them down and flavors to come together.

Add 8 cups water and two vegetable bouillon cubes. Drop in Bay Leaves and stir everything together.

Reduce to med-low, cover and simmer for about an hour. Stirring every 10 minutes or so.

Remove lid and continue to cook until most of the liquid has evaporated and the beans are tender. About another 30 minutes to an hour.
Notes
Store the beans and rice separately in the refrigerator for up to 4 days. 
Nutrition facts are calculated without rice. 
Nutrition
Calories:
167.13
kcal
|
Carbohydrates:
19.42
g
|
Protein:
6.47
g
|
Fat:
7.84
g
|
Saturated Fat:
1.08
g
|
Sodium:
826.12
mg
|
Potassium:
500.09
mg
|
Fiber:
6.08
g
|
Sugar:
2.9
g
|
Vitamin A:
518.24
IU
|
Vitamin C:
16.24
mg
|
Calcium:
51.07
mg
|
Iron:
2.39
mg