Are you a busy mom living a vegan lifestyle? Or just looking for an easy and healthy lunch for your kids? These easy vegan school lunch ideas from Costco are for you! They are healthy, super quick to put together, and best of all, you can grab everything from Costco! That's right- Costco!
Back to school is around the corner and with that means busy mornings and packed schedules. So, I decided to prepare early for school this year with school lunch being first on my list. Because as you know packing vegan lunches can be a bit tricky, especially if you want fast and healthy vegan school lunch ideas.
So then, first thing first, my kiddos had to find the perfect back to school lunch box (you now how important that is), and luckily they each found one they love on Amazon- I just love Amazon! In the photos above, the one to the left is for my younger daughter (check it out here), and the bigger one to the right is for my 13 year old (check it out here).
Next, I ordered the cutest blue and pink bento boxes that fit perfectly inside both lunch bags (I always check the measurements of the lunch bags and bento boxes before ordering). I ordered those on Amazon as well (curious about those? click here). I find that it's best to have a bento box and a lunch bag, this way you can add a drink and an additional snack or whatever they may need for that particular day.
Finally, I braved the supermarkets in search of the easiest one-stop-shop for an easy vegan school lunch and I was pleasantly surprised to find that Costco has everything I need. No going from store to store- who has time for that!? Definitely not me, so that's why I am so excited to share with you these Easy Vegan School Lunch Ideas from Costco! Let's dive in!
Costco Vegan School Lunch Items
Below is a list, everything from Costco, that I bought for my kids lunches. Keep in mind that theses things can be mixed, matched, and omitted if necessary to suit your children's needs. Also, I plan to update this list every August, before school starts to stay current on Costco's inventory.
Honest Kids Organic Juice Drink $9.99
40 count 6 oz juice boxes (lemonade, grape, fruit punch, apple)
35 calories per box
37% juice blend
Dole Mandarin Oranges $8.49
16 count all natural fruit and juice cups
1 full serving of fruit
70 calories per cup
Kirkland Organic Hummus $6.49
20 count 2.5 oz cups
Non-GMO
170 calories, 13 grams of fat, 4 grams protein per cup
Seeds of Change Organic Beans $5.97
4 count 9.2 oz microwavable pouches
Good source of protein and fiber
120 calories per half cup
Seeds of Change Organic Spanish Style Rice $6.97
6 count 8.5 oz microwavable pouches
260 calories per cup
good source of protein and fiber
Rosarita Vegetarian Refried Beans $7.49
8 count 16 oz cans
excellent source of protein and fiber
120 calories per half cup
Kirkland Extra Fancy Mixed Nuts $18.49
2.5 lbs
contains cashews, almonds, brazil nuts, pecans, macadamia nuts, peanut oil, and sea salt.
170 calories per cup
RW Garcia Organic Sweet Potato Crackers $6.97
2 count 15 oz bags
Gluten Free and No Sugar Added
flaxseed, black sesame seeds, and chia seeds
Hippeas Organic Chickpea Puffs $6.99
Vegan White Cheddar 18 oz bag
130 calories per 1 oz serving
good source of fiber and protein
Oroweat Sandwhich Thins $5.99
24 pre-sliced rolls (3 stay fresh bags with 8 each)
100% whole wheat
100 calories per roll
good source of protein and fiber
Kirkland Organic Strawberry Spread $7.69
2 lb 10 oz jar
Made with 100 % fresh strawberries
Jif Creamy Peanut Butter $9.99
2 count 3 lb jars
7 grams protein per serving
Crunchpack Organic Apple Slices $6.99
8 count 6 oz bags
90 calories per bag
Cal-Organic Cut Peeled Baby Carrots $4.99
2 count 2 lb resealable bags
Concerto Grape Tomatoes 2lbs $4.99
Bananas 2 lbs $1.39


4 Possible Vegan Costco School Lunch Combinations
Lunch Combo #1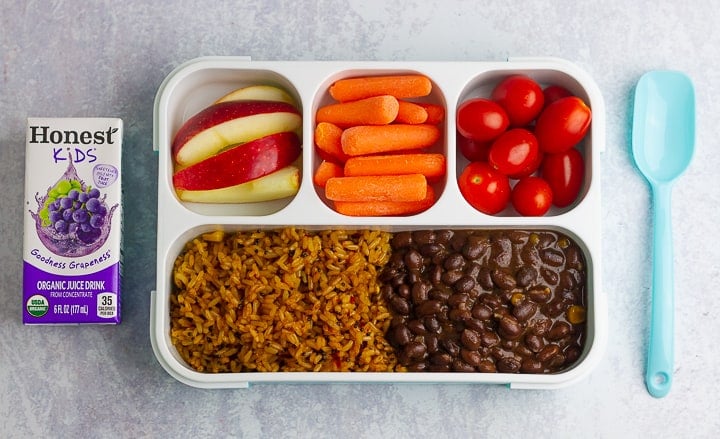 This lunch combination is great is you want a change from the usual sandwich and it couldn't be easier! The Organic Savory Mexican Style black beans come in a pouch and are microwavable and the same goes for the Spanish style Rice with quinoa, red bell peppers, and corn.
You just vent the corner of the pouch and pop in the microwave for 90 seconds. While rice and beans are in the microwave, you can add the carrots, apples, and cherry tomatoes to your bento box or lunch bag- vegan school lunch in 5 minutes!
Lunch Combo #2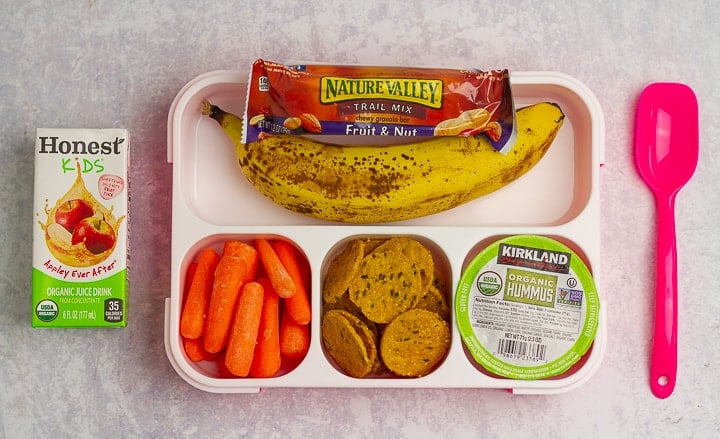 This is a healthy and fun lunch combination if your kids like to dip- I know mine do! It starts with a Kirkland Organic hummus cup, then carrots and sweet potato crackers for dippers. Next, toss in a banana and a Nature Valley Trail Mix Bar. And that my friends is a nutritious vegan lunch DONE and it only took about 2 minutes.
Lunch Combo #3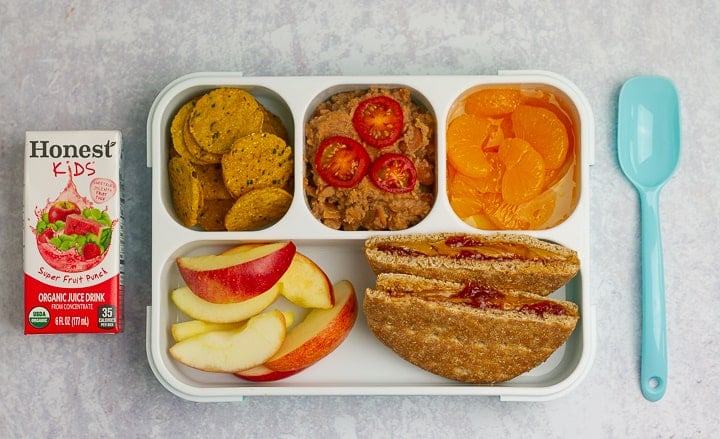 Who doesn't love classic PB&J? Here, we make it a bit more fun by spreading a generous portion on a Oroweat Sandwich thin; these little rolls are 100 percent whole wheat, super nutritious, and contain only 100 calories!
Pair the sandwich with apple slices, mandarin oranges, sweet potato crackers, and a scoop refried beans. My kids love eating the refried beans like a dip, using sweet potato crackers as dippers and it's so healthy! I'll bet you can prepare this healthy vegan lunch is less than 5 minutes!
Lunch Combo #4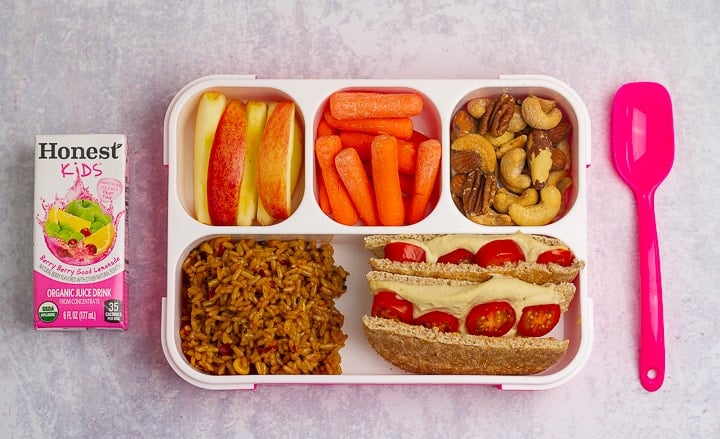 This lunch combo is my favorite- hummus and tomato on an Oroweat sandwich thin; try sprinkling a little salt and pepper on top of the tomatoes... it's the little things. Pair the sandwich the apple slices, baby carrots, mixed nuts, and a scoop of Spanish rice. This one is great for kids an adults alike!

Well there you have it! These easy vegan school lunch ideas from Costco are sure to make your life a bit easier! I hope you enjoyed these lunch tips and now for a question: do you have any lunch tips of your own? I'd love to hear them! Let me know in the comments section.
As always....... HAPPY EATING!
Crystal